The Sea
Captain John Watson, a Peterhead Whaler, 1834 - 1912
Courtesy of the Captain's great-great grandson, Graeme Martyn of Richmond, New Zealand.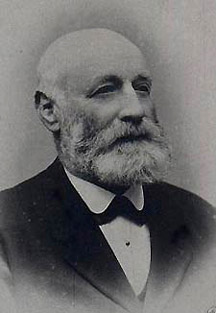 The following experiences of Capt. John Watson appeared in the Otago Witness 15th January, 1908, and the Otago Daily Times 10th January, 1908. The notes in brackets are an attempt to match up references in this article to remarks in Captain Watson's personal notebook.
Graeme Martyn, Sept. 2001
Captain John Watson
Born Peterhead, 1834
Died Port Chalmers, NZ, 1912
"CALL OF THE ICE"
A Peterhead Whaling Captain in New Zealand
Otago Daily Times, New Zealand, 10th January 1908.
Prosaic, stay-at-home folk have had there imagination stirred lately by the preparations made at Lyttelton by Lieutenant Shackleton and his party, who are now making their way down to the regions of perpetual ice and snow in that inhospitable expanse which is only faintly comprehended by the imagination under the term of "the Antarctic."
The mighty ice-cap which surrounds the South Pole undoubtedly has its attractions for the scientist and mathematician, but it must be confessed that the Antarctic regions compare unfavourable with the Arctic so far as human interest is concerned. From the days of Hakluyt, Behring, and Davis, down to the present time, there has been a vast expenditure of strenuous effort and a large loss of human life in endeavouring to fight King Frost and wrest from him his well guarded secrets.
In years gone by the northern water teemed with whales of all kinds, the ice-floes swarmed with fur seals and polar bears, whilst interesting tribes of Esquimaux provided that human element which only served to accentuate the mystery of it all.
The British sailor took as naturally to whaling and sealing as he did to buccaneering and filibustering in the days of Frobisher, Drake, and Morgan, and year after year vessels sailed away from various British ports to garner the harvest of the arctic seas. In 1848 the whaler "Victor" sailed from Peterhead, bound for the Arctic seas Included in the crew was a lad of 18 years of age, who had become seized with a desire to travel into the ice regions of the far North. He attained his object, rose rapidly to the position of master of his own vessel, and as Captain John Watson has been for many years a highly respected resident of Port Chalmers.
Most sailors are modest, as well as brave, but whilst they may occasionally relate some incidents of thrilling interest in their lives, they usually relapse into exasperating reticence when a press man endeavours to get "copy" out of them; and it is not too much to say that many of Captain Watson's oldest friends will be surprised to learn that he spent a number of years in the Arctic regions.
First trip aboard the "Victor"
Born at Peterhead, Scotland, in May,1834, he was educated at the local parish school and Peterhead Academy. After leaving school he served in the Inland Revenue Department for two years; but tiring of clerical work, he went to sea in 1848 as an apprentice on the aforesaid whaler . The "Victor" was commanded by Captain Robert Martin, and Captain Watson states that his was the last vessel [the "Enterprise" July 1845] to speak to Sir John Franklin as he passed through Davis Strait about three years previously on what proved to be his last and ill-fated voyage of discovery. In 1854 Captain Watson passed his Board of Trade Examination as mate, and in that capacity made no less than 12 voyages into the Arctic regions in various vessels. In 1856 he was master of the barque Perseverance; having passed his examination as master in that year. Shortly afterwards a company, comprising English, Norwegian, and Danish gentleman, secured the yacht "Dolphin"; 216 tons, four guns, and fitted her out for the purpose of exploiting mineral deposits, which were believed to exist within the Arctic circle. Captain Watson was appointed ice master, by reason of his great experience, and the vessel sailed from Portsmouth in due course for the coast of Greenland. The little craft got badly knocked about with gales in the Irish channel, and got dismasted and otherwise damaged. Eventually she reached Liverpool, where she refitted, after which she reached her destination safely. The minerals were located, and samples of copper, tin, plumbago, and criolite were taken to London. As a result of this trip a large quantity of the last mentioned mineral was after- wards obtained and shipped to St. John's and Hamburg.
Castaways
In May, 1857, Captain Watson reached the high latitude of 82.5 north, in search of whales. The following year he was chief Officer of the ship "Gypsy": Whilst trying to force a passage through the ice pack in Melville Bay, the vessel was crumpled up amongst the burgs like an egg shell, and all hands had to shelter on an ice flow for some days, when the party endeavoured to reach the south by means of the ship's boats. After enduring privations and hardships, they sighted a vessel beset in the ice some miles away and, after great difficulty, succeeded in reaching her, when she proved to be the barque "Emma", of Hull. All hands gladly climbed on board and after they had enjoyed the ships welcome hospitality for a week, the ice opened, and the "Emma" was able to proceed to the southward where they found a number of whalers made fast to the shore ice. Each vessel took a boat's crew of the castaways, who remained in the Arctic for another four months before they left again for home.
Ships lost in Davis Strait
After a brief spell ashore, Captain Watson found himself chief mate of the whaling ship "Eclipse" bound for a cruise in Davis Strait in search of whales. When he had reached the high latitude to which he had attained in the previous year, the ice closed in on the vessel and then the trouble began. All hands set to work to cut a dock in the ice floe, as a strong southerly gale had set the ice in motion. With great difficulty they cut a dock in the ice large enough to accommodate her and another vessel - the "Heroine" of Dundee. Six hours later both crews were rewarded for their strenuous toil by seeing the ice go right through the "Eclipse" and her masts fall over the side, and shortly afterwards the "Heroine" was lifted up bodily by resistless ice floes and dumped right on top of her hapless neighbour, both vessels being hopelessly wrecked. After landing some small boats and provisions on the ice they camped for a few days, when a lane appeared in the ice, through which a steamer could be seen approaching. Hastily launching their boats, the castaways made tracks for the stranger, whose officers and crew were considerably embarrassed at seeing so many visitors, and as the new arrival was unable to accommodate them all on board for fear of running short of provisions in case of getting beset in the ice. [21 Jan 1858] Captain Watson and a number of his fellow castaways hauled their boats up on the berg and travelled five miles across the ice to a brig which was beset in the pack ice. After they had stayed on board this vessel for a few days, the ice opened, and picking up their boats again they made for the south. Eventually they reached the Esquimaux settlement at Upernavik, where they lived with the natives for a few months.[27 July 1858] The Esquimaux proved most hospitable and well disposed towards the party, and Captain Watson still cherishes kindly feelings for those hardy people amongst whom his lot was so rudely cast nearly half a century ago. Eventually [August 23?] the castaways were rescued by a Danish brig [Constance?] which which called at the settlement to collect furs and oils from the natives, leaving in return provisions and other commodities for the settlement. They all returned home by the brig [leaving 6 Sept] and arrived safely after a six weeks passage.[Arrived Dundee 26 Oct.]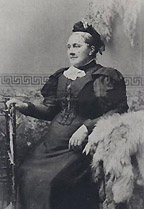 Watson married Elizabeth (Eliza) Leask, daughter of Alexander Leask, a Peterhead seaman, in 1855.
Eliza's brother, William H. Leask, was later to become the Provost of Peterhead.
In 1864 the family emigrated to New Zealand, arriving at Port Chalmers on July l3th 1864 aboard the "Andrew Jackson", an American clipper-built steamer on her first visit to New Zealand.
Captain Watson's wife died, after an illness of eleven years, on July 6th 1910. She had been devotedly nursed by two daughters, Bella Watson and Jeannie Thomson at their home in Port Chalmers.

Sailing from Dundee
Undeterred by the hardships and experiences of previous voyages to these high latitudes, Captain Watson decided to visit the Arctic again, and yielding to the mysterious calling of those icy solitudes he joined the steam whaler "Camperdown" as chief officer in 1860. This fine fine vessel haled from Dundee, then, as now, the home of the British whaling fleet. She was well equipped for her strenuous calling and carried 10 boats 85 of a crew. The vessel cruised over the whaling ground in Davis Strait for six months, and just before the time appointed to return, some of the party, including Captain Watson, met with a lively experience, which came within an ace of proving fatal to all. Captain Watson's boat had made fast to a very large whale, and as they were unable to kill it three more boats were sent to their assistance. Whilst they were all busily engaged with the big cetacean a heavy northerly gale sprang up, accompanied with thick, driving snow. Under that biting blizzard everything froze in a very short time, and all hands had their work cut out to save their boats from being swamped. As the wind-driven icebergs threatened the safety of the whaler, she had to run before the gale, and was quickly lost to sight. Left to their own resources, and with darkness approaching to the accompaniment of a howling gale, the boats had to cut their lines and abandon their hard-won prize, and all hands were very glad to seek the friendly shelter of an iceberg which was aground some distance away. The gale continued throughout the night and following day, when it moderated and the whaler steamed back and picked them up. Had their vessel been a sailor there is not the slightest doubt that the whole party would have perished. Three days later another vessel picked their valuable prize, which had died, but as the season was now late and the ice becoming dangerous the "Camperdown" was turned homewards. Whilst making for the open water the ship had a perilous time while threading the passage through icebergs, which Captain Watson describes as being "as thick as tombstones in a cemetery". At one time the "Camperdown" was beset with bergs on every hand, and the greatest difficulty was experienced in getting her through the tortuous channel formed by the gigantic bergs, many of them five hundred feet high. Several instances the vessel had to scrape so close some of them that it really seemed as if her yards would be brought down by projecting pinnacles. After an exceedingly anxious time the vessel got clear the menacing icebergs and the open water was safely reached and a few weeks later the "Camperdown" arrived home. Here Captain Watson only remained a short time. He joined the ship "Alibi" as chief officer, and after a few months transferred to the ship "Queen" in a similar capacity.
Bound for Melbourne
In September,1862, he was in Southampton, when he accepted the position of Second officer on the steamer "Alhambra" bound for Melbourne, and shortly after arrival there he joined the steamer "Lady Darling" as chief officer, after becoming master of several vessels engaged in the Newcastle coal trade. Eventually he found himself on the New Zealand coast during the Maori troubles, and two weeks after the redoubtable Maori warrior Te Kooti escaped from the Chatham in the schooner "Rifleman" Captain Watson received instructions to proceed there in the barque "Collingwood" for the purpose of removing 160 Maori and Morioris to Taranaki.
Later on he acted as coastal pilot and assistant pilot at the Heads for several years, and eventually settled down on shore as dock-master and secretary for the Otago Dock Trust, a position he filled for over 18 years before relinquishing his clerical duties and dual office. After 18 months service as dock-master Captain Watson retired from service and now devotes his leisure hours to the allurements of bowling and horticulture - two amiable pastimes which be token a love of Nature and human fellowship - attributes which must always command respect.
Such is the very bald sketch of a noteworthy career, which covers more than mankind's allotted span, and into the earlier part which Captain Watson contrived enough of peril and thrilling adventure to satisfy most mortals, but that innate modesty of his, which is such a characteristic trait of typical British sea-dog, will permit us to do little more than guess at his exploits and adventures, and so, respecting his wishes, we leave him, at the turn of the road, whence he surveys the past and looks with kindling eyes towards the southern ice, which is fraught with such human interest at the present juncture. Whilst the "Koonya" and "Nimrod" are battling with rude Boreas in the Atlantic, thousands of people are speculating as to the probable outcome of the enterprise, but few are so well qualified to estimate the changes of success or failure as Captain John Watson.